Alternanthera reineckii
Model:P2020070
Regular price

Sale price

£6.99
Quick Facts

Rating: Easy

Origin: South America

Common name: Scarlet Temple

Position in Aquarium: Midground

Growth Rate: Fast

Grows up to (cm): 50 cm

Pot Size: 5 cm
Plant Sizes

The image of the plant you'll be receiving is just an example of what you can expect. Each plant is unique and may vary in size and shape, so it won't be an exact match to the photo. If we provide a size guide, keep in mind that it's just an estimate and that plants can vary in size depending on the time of year.
our delivery promise to you

If you choose Express Delivery, we will replace any plants that are damaged due to delays. Express Delivery is a fast, trackable, and reliable option with a one hour delivery window. It also ensures that the plants will arrive in the same condition as when they left our facility. If you choose a different postage option, such as Tracked 24 or Tracked 48, you will not be covered for any damages due to delays and will assume the risk yourself if the plants do not arrive in good condition. Express Delivery includes an insurance policy, which may cost more but provides added peace of mind.



If you order before 4pm we dispatch the same working day (Mon-Fri). Shipping prices start at £4.99 depending on the speed of delivery required.

Looking for a stunning and easy-to-maintain aquarium plant? Look no further than Alternanthera reineckii! Also known as the Red Scarlet Temple, this aquatic plant is sure to elevate the look of your aquarium while providing numerous benefits to your aquatic environment.
One of the most notable features of Alternanthera reineckii is its vibrant red and pink hues. These colors are sure to add a pop of color to your aquarium and provide a visually stunning focal point. Plus, this plant is incredibly easy to care for. It thrives in a range of lighting conditions, making it a great choice for beginners and experienced aquarists alike.
Not only is Alternanthera reineckii aesthetically pleasing, but it also provides numerous benefits to your aquarium's ecosystem. As a fast-growing plant, it helps to absorb excess nutrients from the water and reduces the risk of algae growth. Additionally, it provides shelter and hiding places for your fish and other aquatic creatures, creating a more natural and stimulating environment.
Another great feature of Alternanthera reineckii is its versatility. It can be planted as a foreground, midground, or background plant, depending on your aquarium's needs. It can also be propagated easily, allowing you to spread its beauty throughout your entire tank.
In conclusion, if you're looking for a plant that's easy to care for, visually stunning, and provides numerous benefits to your aquarium's ecosystem, Alternanthera reineckii is the perfect choice. And here's a unique fact about this aquatic plant - it's native to South America and is often used in traditional medicine to treat various ailments!
Share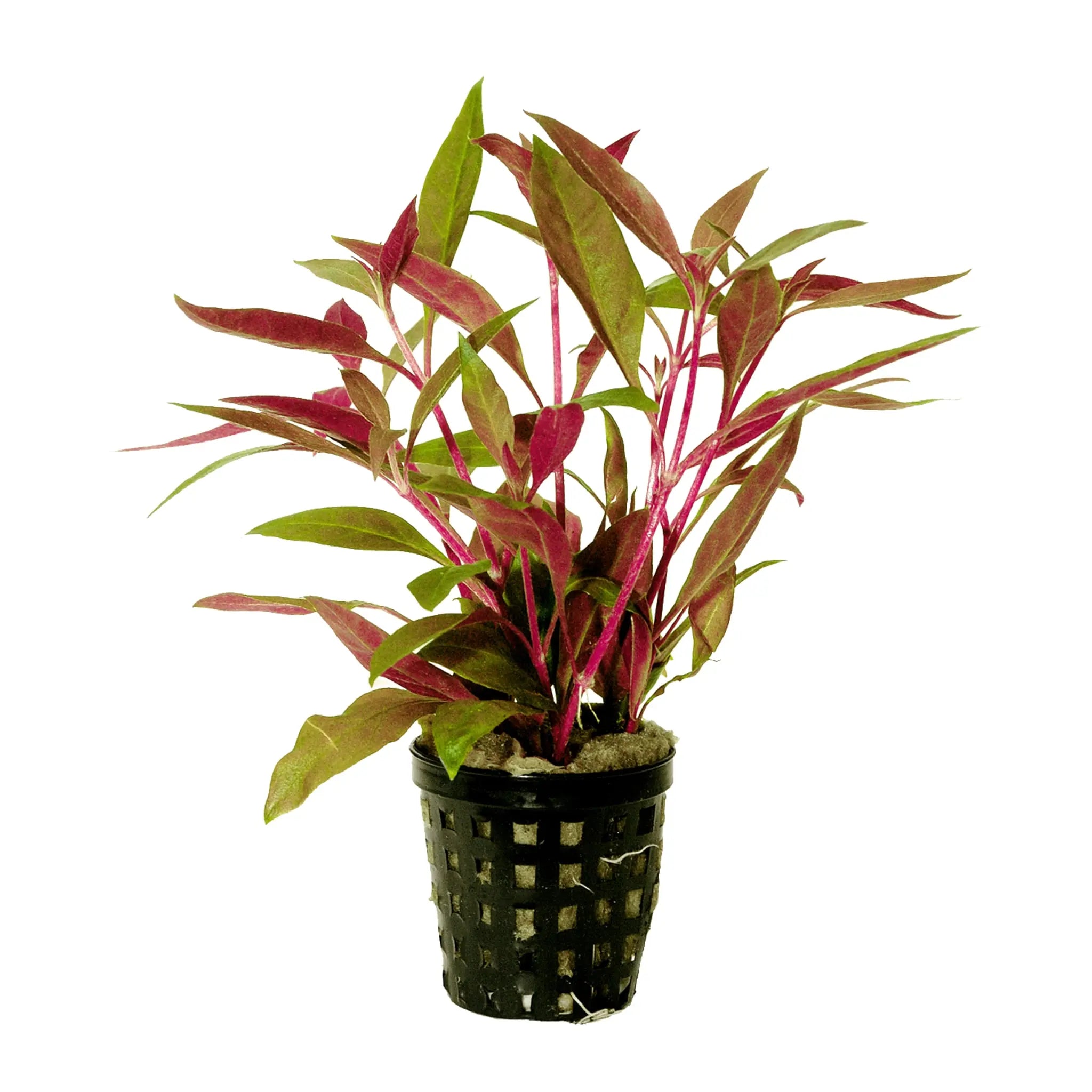 Here's a few tips about this plant that are worth mentioning.
1. Lots of colour

Red plants are popular in the hobby because they break up the sea of green that we see so much of. Use red plants in groups to create focal points and consider positioning them around wood or rock for a stylish look.
2. Red plants need more light

Red plants get their colour from light intensity. The reason they arrive with lovely colours is because they're grown in greenhouses that have access to lots of natural light. This means they grow fast, and colourful. If you don't have lots of light (and these plants really like pink light), colour can be less along with speed of growth.
3. Don't forget to trim

Most red plants are stems and this means they generally grow quite fast. It's important to trim stem plants regularly and don't be concerned when trimming 50% each time. This allows the plant to retain their colours and stay bushy. If you let them grow too big, they'll drop their lower leaves and concentrate on their top section (resembling a forest canopy) which you don't want.
Guarantees
All In Stock

Everything you see on the site is in stock, ready to ship. No special orders, no waiting around.

Fast Dispatch

Fast shipping. If you order before 4pm Mon-Fri, we'll ship the same day. Whoooosh.

Easy Checkout

You'll find our checkout smooth and silky for a comfortable shopping experiece. Welcome to First Class :)
Alternanthera Reineckii
I bought this Alternanthera Reineckii along with the mini or dwarf Reineckii .be warned this is a TALL plant I don't have a photo I'm afraid I gave it to a friend who has a deeper tank. It's a shame its a beautiful plant just like the mini reineckki. It was my fault tho I was guilty of not reading the extensive information aqua essentials provide with every plant! If you have a standard hight tank buy the mini Reineckii. If you have a tall tank buy a couple of pots you won't be disappointed!. As usual the delivery was fast the way the plants are packaged is brilliant I'm not seeing ANY other business package their plants in such a way they are totally safe and protected. The quality is exceptional it really is. If its aquatic plants you want only shop with aqua essentials you would be daft going elsewhere.
Stunning Red Alternanthera Reineckii
This plant arrived in tip top condition and has really livened up the aquarium of predominately green plants.
It has settled in really well and I am delighted with the overall effect.
Would definitely recommend this plant, particularly from aquaessentials.
ted plants
Since putting these plants in my tank the colour if the red one has faded and the green ine remains green is it a light heat ir iron issue?
Tyically for red plants they need either brighter light OR light with a pink colour rendition (I'd choose the latter)
Plant arrived in great condition, looks great in the tank and is growing beautifully.
Review
Very nice plant to have aquarius tank
Review
Very nice plant to have aquarius tank
Review
Fantastic condition, looks great ensure it has plenty of light or it might loose it vibrant colour
Review
Fantastic condition, looks great ensure it has plenty of light or it might loose it vibrant colour
Review
Gorgeous plants. The lovely red brightens up the tank. Arrived in excellent condition
Review
Gorgeous plants. The lovely red brightens up the tank. Arrived in excellent condition
We're environmentally friendly
1. Sustainable Packaging

2. Fast Delivery

3. Guarantee
Your plants will be wrapped with recyclable Honey Comb wrap - sounds cool because it is :). It interlocks which means we don't need to use tape either, reducing our impact on the environment.
Not only is delivery fast with DPD Express but it's also green as they offset all the carbon their vehicles produce. Guilt free delivery which we're very proud of...
We guarantee you'll be happy with your order. But if you're not, please contact us so we can resolve. We are 100% here to help and will always do our best to resolve any issues - that's a promise.
Contact Us