Ludwigia Mini Super Red
Model:P2020831
Regular price

Sale price

£6.99
Quick Facts

Rating: Easy

Origin: North America

Common name:

Position in Aquarium: Mid/background

Growth Rate: Medium pace

Grows up to (cm): 30 cm

Pot Size: 5 cm
Plant Sizes

The image of the plant you'll be receiving is just an example of what you can expect. Each plant is unique and may vary in size and shape, so it won't be an exact match to the photo. If we provide a size guide, keep in mind that it's just an estimate and that plants can vary in size depending on the time of year.
our delivery promise to you

If you choose Express Delivery, we will replace any plants that are damaged due to delays. Express Delivery is a fast, trackable, and reliable option with a one hour delivery window. It also ensures that the plants will arrive in the same condition as when they left our facility. If you choose a different postage option, such as Tracked 24 or Tracked 48, you will not be covered for any damages due to delays and will assume the risk yourself if the plants do not arrive in good condition. Express Delivery includes an insurance policy, which may cost more but provides added peace of mind.



If you order before 4pm we dispatch the same working day (Mon-Fri). Shipping prices start at £4.99 depending on the speed of delivery required.

With a name like Ludwigia Mini Super Red, it's an eye catcher already! This rather neat looking stem plant grows up to 30cm in height and offers a welcomed colour addition into any aquarium. The red stems are striking as are the leaves which have red veins throughout.
Originating from North America, this fast growing needs heavy trimming to keep it bushy. One of our favourites!
Share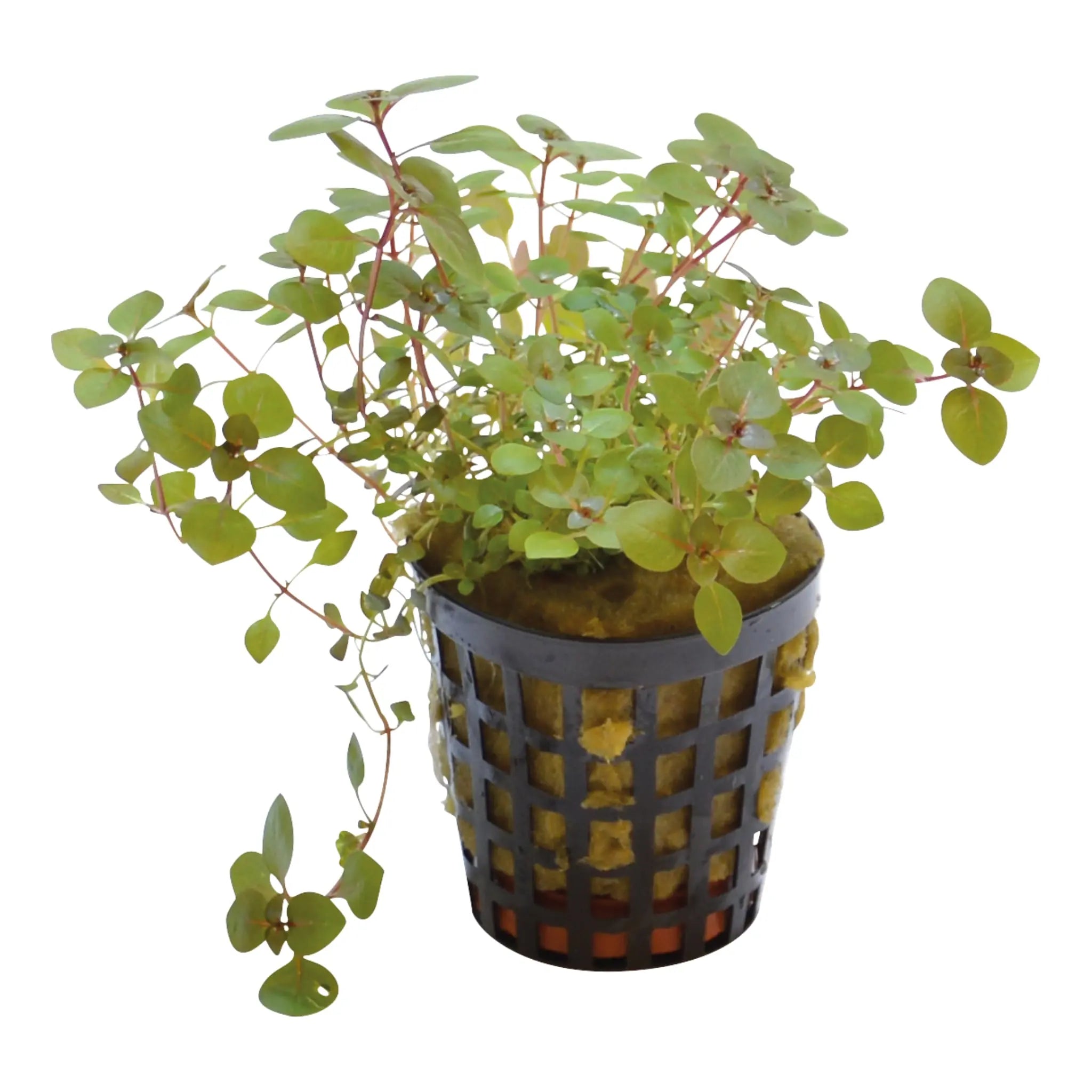 Here's a few tips about this plant that are worth mentioning.
1. Lots of colour

Red plants are popular in the hobby because they break up the sea of green that we see so much of. Use red plants in groups to create focal points and consider positioning them around wood or rock for a stylish look.
2. Red plants need more light

Red plants get their colour from light intensity. The reason they arrive with lovely colours is because they're grown in greenhouses that have access to lots of natural light. This means they grow fast, and colourful. If you don't have lots of light (and these plants really like pink light), colour can be less along with speed of growth.
3. Don't forget to trim

Most red plants are stems and this means they generally grow quite fast. It's important to trim stem plants regularly and don't be concerned when trimming 50% each time. This allows the plant to retain their colours and stay bushy. If you let them grow too big, they'll drop their lower leaves and concentrate on their top section (resembling a forest canopy) which you don't want.
Guarantees
All In Stock

Everything you see on the site is in stock, ready to ship. No special orders, no waiting around.

Fast Dispatch

Fast shipping. If you order before 4pm Mon-Fri, we'll ship the same day. Whoooosh.

Easy Checkout

You'll find our checkout smooth and silky for a comfortable shopping experiece. Welcome to First Class :)
Looks great!
This adds a different colour and leaf-shape to my aquarium. Arrived healthy and in good time.
Beautiful plants. Arrived on time. Very pleased with my purchase
Ludwigia Mini Super Red
First time i have bought this plant and I am delighted with them..They arrived very healthy in their little baskets and are a lovely colour..Look great in the tank too..Will buy again.
First time disappointed
I have always been impressed with both the service and quality of plants and products from this company. Sadly this time around the plant was almost totally rotted and in a very poor way when it arrived. There was very little left to plant, and what was left died back over the next 48hrs. This may have been due to a possibility longer delivery time due to the general delays we are experiencing at the moment.
I am sorry to read this however if plants are delayed in the post they can perish which is why we always recommend Express Delivery.
Arrived quickly beautiful healthy specimens
Ordered Ludwigia palustris super red- two pots. Arrived very quickly and great plants.
Review
This is a great plant for adding a bit of colour grows really well too
Review
This is a great plant for adding a bit of colour grows really well too
Review
This plant came in great condition with plenty of healthy growth. Looks happy in the tank with plenty of new shoots. Successful purchase.
Review
This plant came in great condition with plenty of healthy growth. Looks happy in the tank with plenty of new shoots. Successful purchase.
Review
Very pleased with this plant , already growing and the colour is beautiful. Looks good in tank. Would recommend buying from this company. Will be buying more plants for another tank . Thank you .
We're environmentally friendly
1. Sustainable Packaging

2. Fast Delivery

3. Guarantee
Your plants will be wrapped with recyclable Honey Comb wrap - sounds cool because it is :). It interlocks which means we don't need to use tape either, reducing our impact on the environment.
Not only is delivery fast with DPD Express but it's also green as they offset all the carbon their vehicles produce. Guilt free delivery which we're very proud of...
We guarantee you'll be happy with your order. But if you're not, please contact us so we can resolve. We are 100% here to help and will always do our best to resolve any issues - that's a promise.
Contact Us