Anubias nana
Model:P2020160
Regular price

Sale price

£8.99
Quick Facts

Rating: Easy

Common name: Dwarf Anubias

Origin: Africa

Position in Aquarium: Attach to wood/rock

Grows up to (cm): 25 cm

Pot Size: 5 cm

Growth rate: Slow
Plant Sizes

Just wanted to give you a heads up that the image of the plant you'll be receiving is just an example of what you can expect. Each plant is unique and may vary in size and shape, so it won't be an exact match to the photo. If we provide a size guide, keep in mind that it's just an estimate and that plants can vary in size depending on the time of year.
Our Delivery Promise to you

If you choose Express Delivery, we will replace any plants that are damaged due to delays. Express Delivery is a fast, trackable, and reliable option with a one hour delivery window. It also ensures that the plants will arrive in the same condition as when they left our facility. If you choose a different postage option, such as Tracked 24 or Tracked 48, you will not be covered for any damages due to delays and will assume the risk yourself if the plants do not arrive in good condition. Express Delivery includes an insurance policy, which may cost more but provides added peace of mind.



If you order before 4pm we dispatch the same working day (Mon-Fri). Shipping prices start at £4.99 depending on the speed of delivery required.

Anubias nana is a small, slow-growing aquarium plant that is native to the tropical regions of West Africa. It is a popular plant among aquarium enthusiasts because of its attractive appearance and ease of care. Anubias nana is a member of the Araceae family and is characterized by its thick, dark green leaves, which grow up to 6cm long and 3cm wide.
Anubias nana is an ideal plant for aquariums as it requires low to moderate lighting and does not need CO2 injection. It can be planted in aquarium substrate or attached to rocks or driftwood. The plant prefers slightly acidic to neutral water and a temperature range of 22-28°C. Anubias nana is a slow-growing plant and may take several months to fully establish in an aquarium.
Anubias nana can be propagated by dividing the rhizome, which is the thick stem that connects the plant's leaves to the roots. The rhizome should be carefully separated into smaller sections, each with several leaves and roots, and then replanted. The newly propagated plant should be anchored to the substrate or attached to rocks or driftwood.
In addition to its aesthetic value, Anubias nana also provides a range of benefits to aquarium inhabitants. The plant provides shelter and hiding places for fish and other aquatic creatures, and can also help to maintain good water quality by absorbing excess nutrients and producing oxygen through photosynthesis.
Overall, Anubias nana is an attractive and low-maintenance plant that is well-suited to aquariums of all sizes. Its ease of care and ability to thrive in a range of conditions make it a popular choice for both novice and experienced aquarium keepers.
Share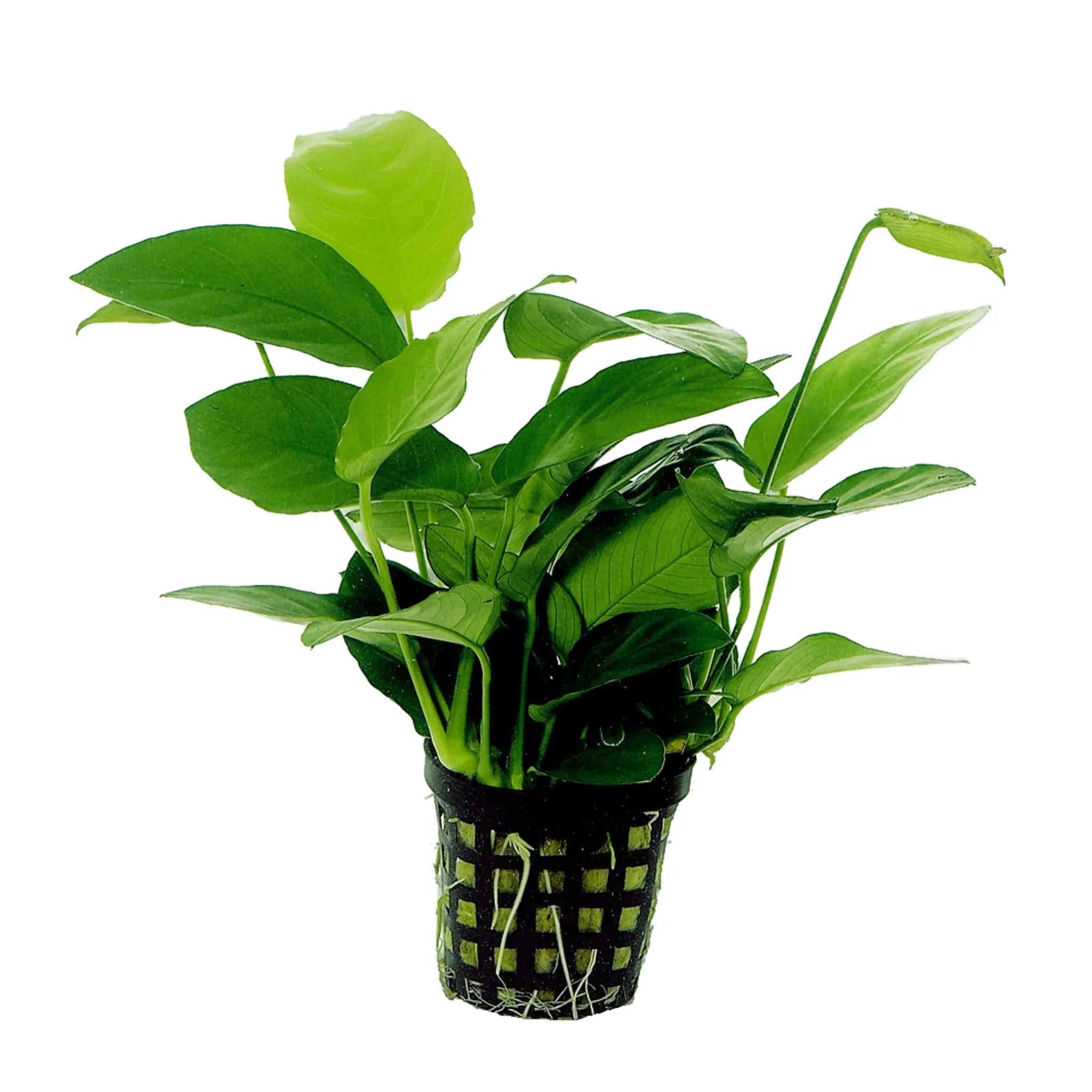 Guarantees to you
All In Stock

Everything you see on the site is in stock, ready to ship. No special orders, no waiting around.

Fast Dispatch

Fast shipping. If you order before 4pm Mon-Fri, we'll ship the same day. Whoooosh.

Easy Checkout

You'll find our checkout smooth and silky for a comfortable shopping experiece. Welcome to First Class :)
Product details
1. Delivery Information

How much does shipping cost?
Shipping starts from £4.99 up to 5kgs on a tracked 48 service. If you want it faster (recommended for plants) then choose Tracked 24 £6.99) or DPD Express Delivery (£8.99).


How long does shipping take?
Not long in general. DPD is the fastest service available and if you order before pm we'll dispatch the same working day. DPD aim to get the parcel to you in 1-2 working days (excluding bank holidays).


Is there tracking available?

Sure but only once your chosen delivery service has scanned your parcel. Tracking will then be sent to either your mobile phone or email address.
2. Stock availability

We always show exactly how many of each item we have available. Just above the Add to Cart button is where that specific number is displayed.
3. Customer service

If you need support on any product, just shoot us a message. We're here Mon-Fri on chat or email.
Great product and quick delivery
Massive plant came. I thought nana was supposed to be small ahah. I trimmed it to my liking and it's doing well but I heard it takes a while to die if it's not happy so let's see. Fingers crossed
Excellent quality and speedy shipping
Nice size plant really bushy and green some nice sized roots too it arrived in perfect condition.
Excellent price and quality
Beautiful plant
So pleased with my Anubias. Beautiful, healthy foliage and some flowers. I was able to split it into 2 plants and both are thriving.
Looks like the picture
Great plant quality, looks like the picture. Quick delivery.
Plants in excellent condition. No snails.
Anubis plant
Beautiful, healthy and lush! Pest free. Well worth the money.
Anubis's Nana
This beautiful little plant arrived in perfect condition and looks great in my tank attached to a piece of driftwood,thanks to aquaessentials they include a very useful information leaflet on preparing your plant for inserting into your tank .
Thanks. Thomas
We're environmentally friendly
1. Sustainable Packaging

2. Fast Delivery

3. Guarantee
Your plants will be wrapped with recyclable Honey Comb wrap - sounds cool because it is :). It interlocks which means we don't need to use tape either, reducing our impact on the environment.
Not only is delivery fast with DPD Express but it's also green as they offset all the carbon their vehicles produce. Guilt free delivery which we're very proud of...
We guarantee you'll be happy with your order. But if you're not, please contact us so we can resolve. We are 100% here to help and will always do our best to resolve any issues - that's a promise.
Contact Us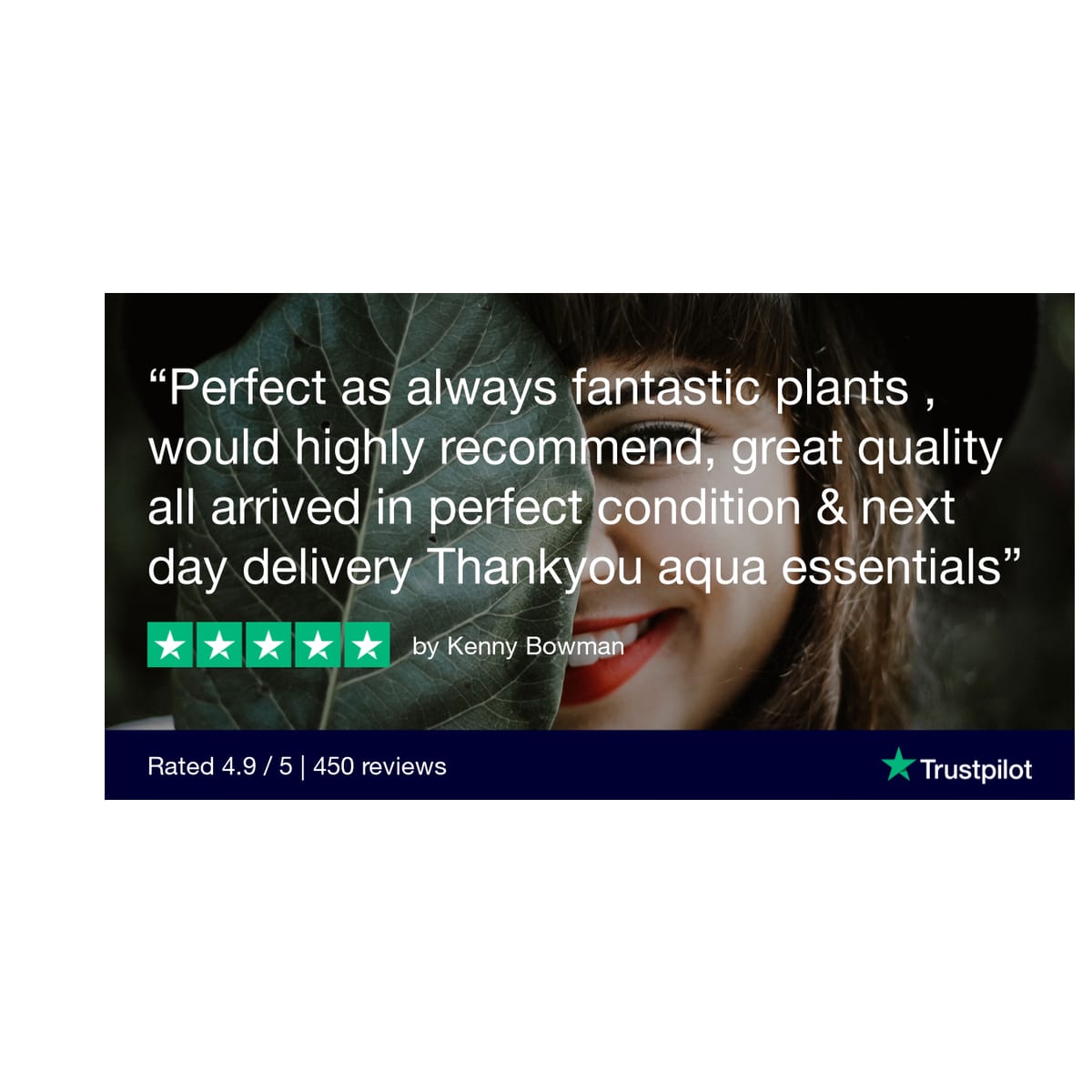 See what others say about us
I can't find anything to say bad about AQUA ESSENTIALS,I found them by
mistake on eBay.The service and product's are first class.

Norman H
Bought several Tropica tissue culture 1•2 grow pots and all were in excellent condition. Couldn't be happier.

Shane
Fantastic
company. I received my order super fast, everything was packaged really
well, really happy with my experience and will shop here again.

Nikki
I was very pleased with the speed of the delivery .i ordered one evening
and the item arrived the next morning well packed . I think they deserve 6 stars out of 5.

Philip P
Lovely plants and incredible customer service!

Aimee