Colombo Mano Base Black - 10L
Model:A5010025
Regular price

Sale price

£20.99
Hurry, only 1 item left in stock!
Shipping info

All our products are in stock, ready to ship (unless otherwise stated). Order before 4pm for same day dispatch (Mon-Fri). Prices start at £4.99 for a Tracked 48 Service (up to 5kgs) and £8.99 for Express Delivery via DPD.
Colombo Mano Base is a natural substrate that can be used as a top layer in any aquarium from beginner all the way up to expert. As opposed to gravel, Colombo Flora Mano Base is open and light with a porous structure. This openness of each grain allows rapid and massive bacterial colonisation which provides for stable water conditions.
Not only that (and most importantly) the structural shape of the Mono Base means it offers plants optimal rooting and water penetration which means no soil compaction. Plants are able to grow freely with plenty of nutrients. Colombo Mano Base is made from natural clay sources and creates a beautiful look in your aquarium. In addition, due to its soft, rounded nature it's also ideal for bottom dwellers and their soft barbels.
Mano Base stores nutrients when there are excesses which means they are able to release them as and when the plants need them. This means superior planted growth, better water conditioning and less algae blooming.
Recommendations:
1 - Wash MonoBase 3 times before using. This removes any dust particles.
2 - For optimal results and long-term fertilisation, start with placing a layer of Colombo NutriBase on the bottom of your tank (sold separately).
3 - Spread a layer of Mono Base across the bottom making sure you have at least 5cm depth. Less than this and planting is difficult. Generally, it's easier to have it higher at the back of your tank, sloping forward.
4 - Start to fill your tank so only the substrates are covered with water - add what wood or rock you want next and only then, plant up. This is by far the easiest way. Spray the plants with water as you are planting to avoid them drying out. But be sure you know where you are planting beforehand too. It's best to plan this in advance (try sketching it out on paper so you have a diagram to follow).
5 - Once this process is completed, fill the rest of your tank up slowly (use a sieve to avoid substrate disturbance). Use luke warm water if possible.
MonoBase is available in both red and black colours depending on choice. Grain size is 1-2mm.
Share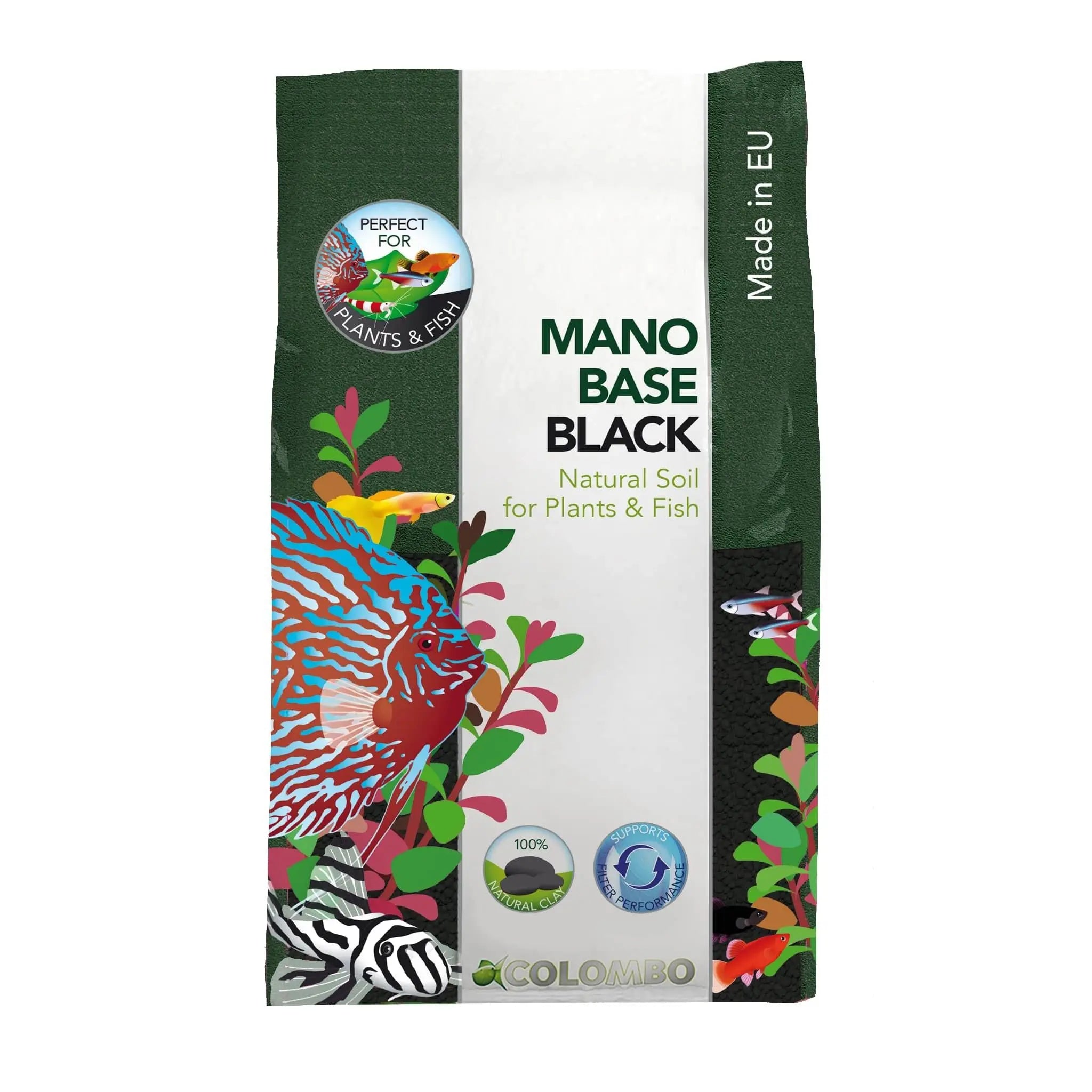 Guarantees
All In Stock

Everything you see on the site is in stock, ready to ship. No special orders, no waiting around.

Fast Dispatch

Fast shipping. If you order before 4pm Mon-Fri, we'll ship the same day. Whoooosh.

Easy Checkout

You'll find our checkout smooth and silky for a comfortable shopping experiece. Welcome to First Class :)
Great Service
Really happy with service. Order arrived really well packaged and promptly. I've only setup a small aquarium recently with the substrate, so early days. Really happy so far. Rinsed easily. Holds new plants well. Capped off dirted layer with no algae issues from free floating nutrients. The colour is really natural once underwater. For the short time used so far would recommend - all positive.
Colombo Mano Base Black
Rinsed 3 times as per instructions and poured gently into half full tank. Only slight clouding, water crystal clear 12 hours later.
Planting easy, no problems with plants floating out.
Reasons for 4 stars - granules slightly larger than expected, ranges up to 3 or 4 mm and in the aquarium, under the light, the substrate is not Black, but grey with light brownish bits, I'd have preferred fewer of the light brownish bits. But it is a natural clay and looks quite natural.
Easy base
I have not had the base long enough to give a statement about plant growth. Additionally I been missing parts for the new tank setup due RM strike. But as time pressured I filled the tank last night with the mano base and planted a few plants.I was very surprised how clean the base is. A very few particles got released when inserting the pants into the soil- but not enough to cloud the water.It stayed clear.I am very impressed with it and will definitely use the base in future tanks and add it to my daphnia tank at some point.
We're environmentally friendly
1. Sustainable Packaging

2. Fast Delivery

3. Guarantee
Your plants will be wrapped with recyclable Honey Comb wrap - sounds cool because it is :). It interlocks which means we don't need to use tape either, reducing our impact on the environment.
Not only is delivery fast with DPD Express but it's also green as they offset all the carbon their vehicles produce. Guilt free delivery which we're very proud of...
We guarantee you'll be happy with your order. But if you're not, please contact us so we can resolve. We are 100% here to help and will always do our best to resolve any issues - that's a promise.
Contact Us