Cryptocoryne wendtii Brown In Vitro
Model:9010
Regular price

Sale price

£6.99
Quick Facts

Rating: Easy

Common name:Brown Wendtii

Position in Aquarium: Midground

Growth rate: Slow

Grows up to: 20 cm

Pot size: 7 cm

Origin: Asia
Plant Sizes

The image of the plant you'll be receiving is just an example of what you can expect. Each plant is unique and may vary in size and shape, so it won't be an exact match to the photo. If we provide a size guide, keep in mind that it's just an estimate and that plants can vary in size depending on the time of year.
our delivery promise to you

If you choose Express Delivery, we will replace any plants that are damaged due to delays. Express Delivery is a fast, trackable, and reliable option with a one hour delivery window. It also ensures that the plants will arrive in the same condition as when they left our facility. If you choose a different postage option, such as Tracked 24 or Tracked 48, you will not be covered for any damages due to delays and will assume the risk yourself if the plants do not arrive in good condition. Express Delivery includes an insurance policy, which may cost more but provides added peace of mind.



If you order before 4pm we dispatch the same working day (Mon-Fri). Shipping prices start at £4.99 depending on the speed of delivery required.

Let's talk about a plant that's making waves in the aquarium hobby: Cryptocoryne wendtii Brown In Vitro. Now, don't be intimidated by the name. Sure, it sounds like something straight out of a sci-fi movie, but I promise it's not that complicated.
First things first, let's break down the name. Cryptocoryne is the genus, wendtii is the species, and In Vitro refers to the way this plant is grown. In Vitro means "in glass," so basically, this plant was grown in a test tube.

Cryptocoryne wendtii Brown is a hardy plant, perfect for beginners. If you're new to the hobby and you want a plant that won't die on you within a week, Cryptocoryne wendtii Brown In Vitro is a great choice. Plus, it's versatile and can be used in a variety of setups. Whether you have a low-tech, low-light tank or a high-tech, high-light tank, this plant will thrive.
Another great thing about Cryptocoryne wendtii Brown In Vitro is that it's easy to propagate. Just like other Cryptocoryne species, this plant will form new plantlets that can be separated and replanted elsewhere. It's like a two-for-one deal!
Now, let's talk about the aesthetics. Cryptocoryne wendtii Brown In Vitro is a beautiful plant with leaves that range from dark green to reddish-brown. It adds a pop of colour and texture to any aquarium and can be used to create a lush, natural-looking scape.
So, there you have it! Cryptocoryne wendtii Brown In Vitro is a hardy, versatile, and beautiful plant that's perfect for beginners and experts alike. And the fact that it was grown in a test tube just makes it even cooler. So, give it a try and watch your aquarium come to life!
Share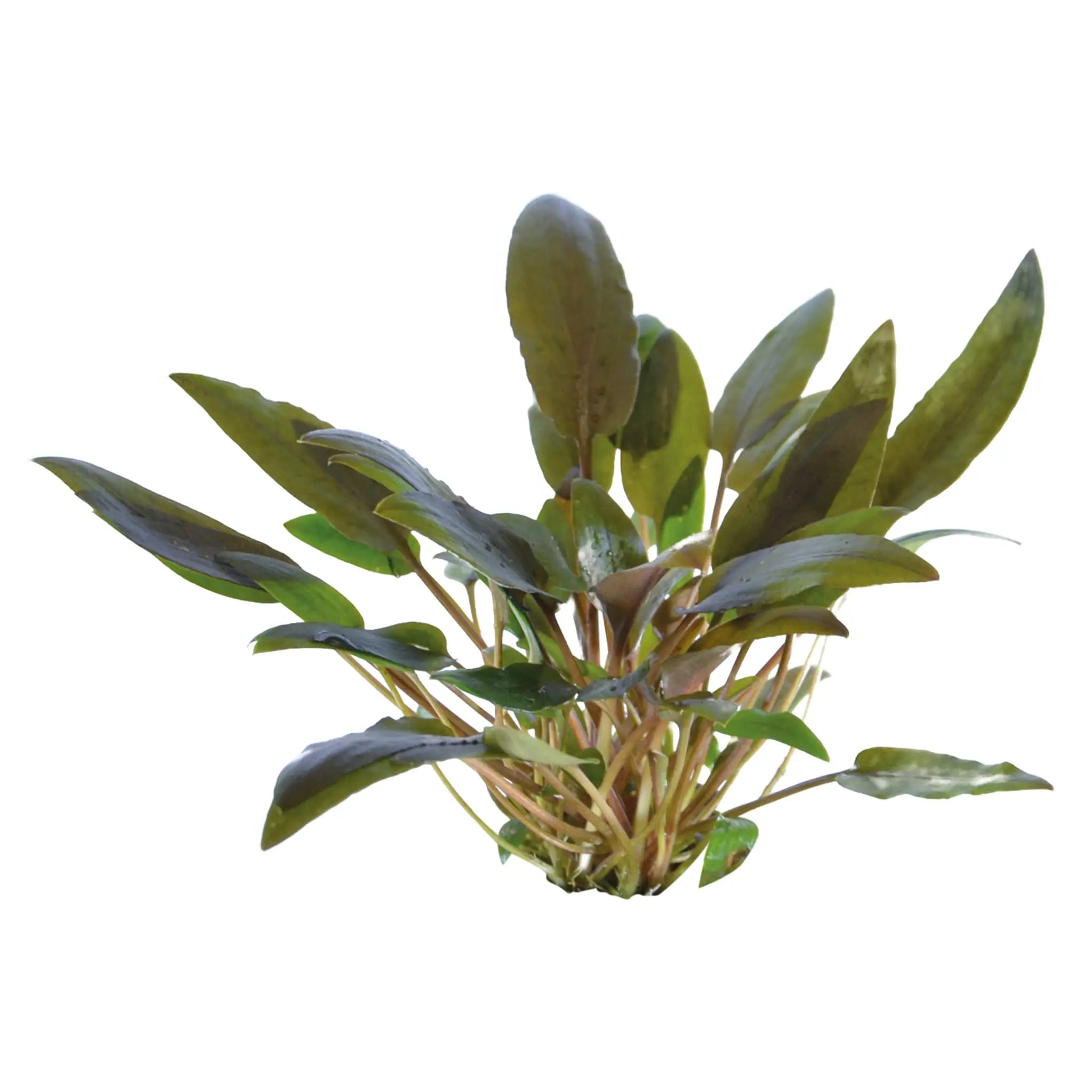 Product details
1. Grown in a laboratory

Tissue Cultured Plants are unique in so much as they are grown in a laboratory and not a greenhouse. As a result of this, a cast iron guarantee is offered which is 100% so snails and no pesticides.
2. How to handle them

They're a bit different from potted plants because they're grown in an agae solution that contains nutrients and hormones to encrougage plants to grow. Some agar is liquid, others are more solid depending on what the growers prefers. Regardless once they arrive with you, acclimatise to room temperature and then rinse under luke warm tap water. Then plant up.
3. Pot sizes

Nearly all TC pots are 5cm in diameter and the pots will range in fullness depending on many factors such as the natural growth speed of the plant and the time the grower has held them for. Sometimes the pots are exceptionally full and sometimes not so full - something we cannot control. But either way, they're still really good value when you look at the overall plant mass.
Guarantees
All In Stock

Everything you see on the site is in stock, ready to ship. No special orders, no waiting around.

Fast Dispatch

Fast shipping. If you order before 4pm Mon-Fri, we'll ship the same day. Whoooosh.

Easy Checkout

You'll find our checkout smooth and silky for a comfortable shopping experiece. Welcome to First Class :)
We're environmentally friendly
1. Sustainable Packaging

2. Fast Delivery

3. Guarantee
Your plants will be wrapped with recyclable Honey Comb wrap - sounds cool because it is :). It interlocks which means we don't need to use tape either, reducing our impact on the environment.
Not only is delivery fast with DPD Express but it's also green as they offset all the carbon their vehicles produce. Guilt free delivery which we're very proud of...
We guarantee you'll be happy with your order. But if you're not, please contact us so we can resolve. We are 100% here to help and will always do our best to resolve any issues - that's a promise.
Contact Us
See what others say about us
I can't find anything to say bad about AQUA ESSENTIALS,I found them by
mistake on eBay.The service and product's are first class.

Norman H
Bought several Tropica tissue culture 1•2 grow pots and all were in excellent condition. Couldn't be happier.

Shane
Fantastic
company. I received my order super fast, everything was packaged really
well, really happy with my experience and will shop here again.

Nikki
I was very pleased with the speed of the delivery .i ordered one evening
and the item arrived the next morning well packed . I think they deserve 6 stars out of 5.

Philip P
Lovely plants and incredible customer service!

Aimee