Ludwigia palustris Super Red
Model:035B
Regular price

Sale price

£8.99
Hurry, only 7 items left in stock!
Quick Facts

Rating: Easy

Origin: Cultivated

Common name:

Position in Aquarium: Midground

Growth Rate: Medium pace

Grows up to (cm): 30 cm

Pot Size: 5 cm
Plant Sizes

The image of the plant you'll be receiving is just an example of what you can expect. Each plant is unique and may vary in size and shape, so it won't be an exact match to the photo. If we provide a size guide, keep in mind that it's just an estimate and that plants can vary in size depending on the time of year.
our delivery promise to you

If you choose Express Delivery, we will replace any plants that are damaged due to delays. Express Delivery is a fast, trackable, and reliable option with a one hour delivery window. It also ensures that the plants will arrive in the same condition as when they left our facility. If you choose a different postage option, such as Tracked 24 or Tracked 48, you will not be covered for any damages due to delays and will assume the risk yourself if the plants do not arrive in good condition. Express Delivery includes an insurance policy, which may cost more but provides added peace of mind.



If you order before 4pm we dispatch the same working day (Mon-Fri). Shipping prices start at £4.99 depending on the speed of delivery required.

Ludwigia palustris 'Super Red' is a beautiful aquatic plant that adds vibrant colour to any freshwater aquarium. Its leaves are a deep, rich shade of red that contrasts nicely with the greens of other aquatic plants. The leaves are oval in shape and can grow up to 1 inch long. They are arranged on thin, delicate stems that can grow up to 12 inches tall.
This plant is perfect for use as a background plant in a larger aquarium, or as a focal point in a smaller tank. It can also be used in outdoor water gardens or ponds. It prefers a moderate to high light level and can thrive in a variety of water conditions, including hard or soft water. However, for optimal growth, it should be provided with a rich, nutrient-dense substrate and regular fertilization.
Ludwigia palustris 'Super Red' is easy to care for, and is a great choice for both novice and experienced aquarists. It is relatively hardy and can tolerate a wide range of water temperatures and pH levels. It can be propagated by cutting the stem and planting the cuttings in a nutrient-rich substrate.
One of the main benefits of having this plant in your aquarium is it can provide shelter for fish and other aquatic animals, as well as help to improve water quality by removing excess nutrients from the water. It also helps to oxygenate the water and provide natural filtration.
In conclusion, Ludwigia palustris 'Super Red' is a beautiful and hardy plant that will add vibrant colour to any freshwater aquarium. It's easy to care for and tolerant of a wide range of water conditions, making it a great choice for both novice and experienced aquarists. It is also great for providing shelter and promoting a healthy environment for aquatic life, as well as improving water quality. This is why many aquarists choose this plant for their tank and it can help to improve the overall aesthetic of the aquarium.
Share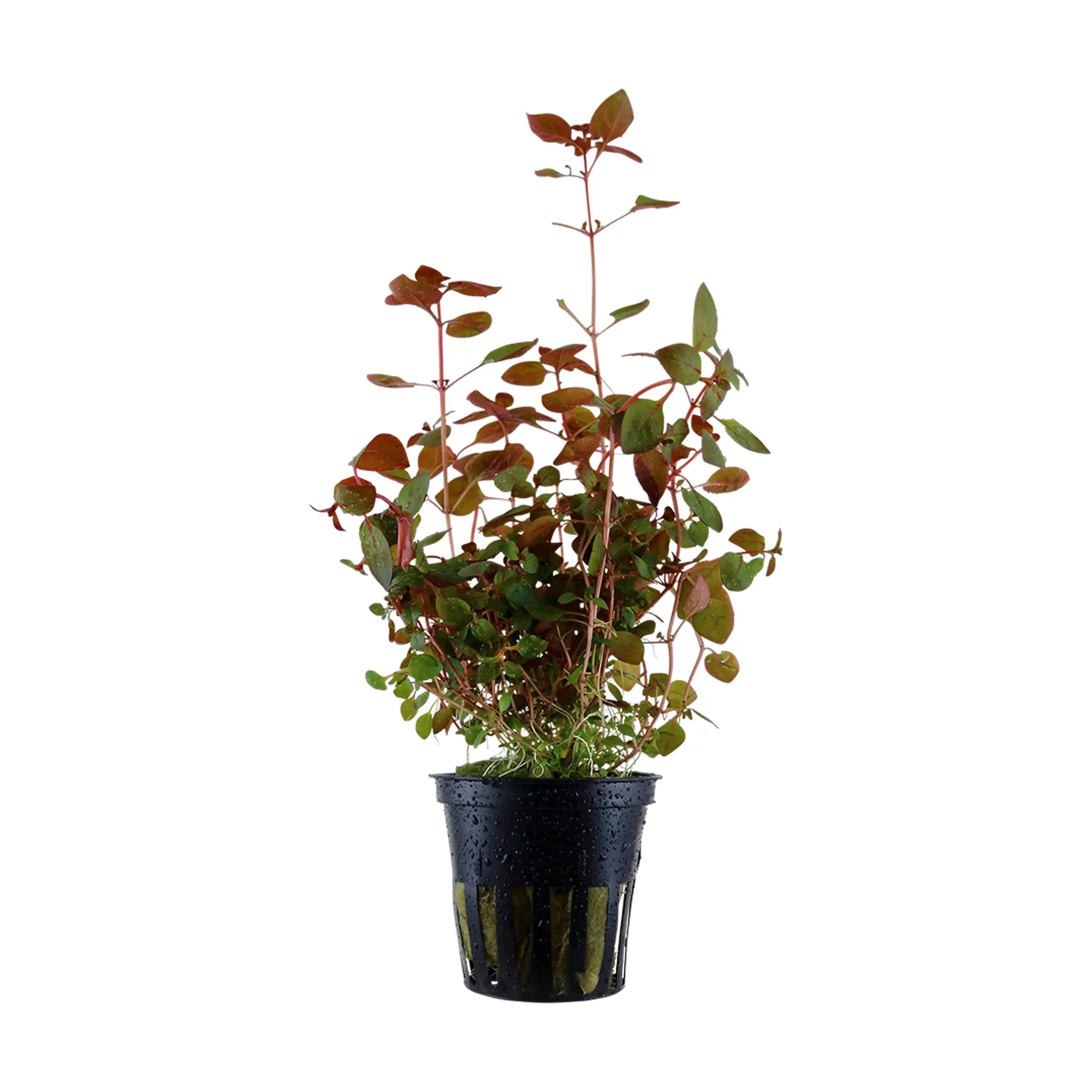 Here's a few tips about this plant that are worth mentioning.
1. Lots of colour

Red plants are popular in the hobby because they break up the sea of green that we see so much of. Use red plants in groups to create focal points and consider positioning them around wood or rock for a stylish look.
2. Red plants need more light

Red plants get their colour from light intensity. The reason they arrive with lovely colours is because they're grown in greenhouses that have access to lots of natural light. This means they grow fast, and colourful. If you don't have lots of light (and these plants really like pink light), colour can be less along with speed of growth.
3. Don't forget to trim

Most red plants are stems and this means they generally grow quite fast. It's important to trim stem plants regularly and don't be concerned when trimming 50% each time. This allows the plant to retain their colours and stay bushy. If you let them grow too big, they'll drop their lower leaves and concentrate on their top section (resembling a forest canopy) which you don't want.
Guarantees
All In Stock

Everything you see on the site is in stock, ready to ship. No special orders, no waiting around.

Fast Dispatch

Fast shipping. If you order before 4pm Mon-Fri, we'll ship the same day. Whoooosh.

Easy Checkout

You'll find our checkout smooth and silky for a comfortable shopping experiece. Welcome to First Class :)
Excellent plants
Arrived promptly, well packed. Have settled into the aquarium after planting.
perfect
the plants came is great condition
Another great delivery.
Plants arrived very well packaged as usual. All very healthy and have settled well into the tank. A lot of new growth but not a lot of colour yet, although I do have quite low tech lighting in my tank. Will keep coming to Aqua Essentials for my plants.
Plant arrived on time, very healthy . Looking great
Very live, fresh and healthy plant.
Aquaessential products are always vibrant and healthy. Keep it up. Thanks
We will do so don't worry :) Thank you for your continued support.
Ludwigia palustris Super Red
really great i planted it as soon as it arrive and its grown all ready will buy another soon
Quality, quick
Great choice of well priced healthy plants, delivered well packaged and quickly
Review
Really pretty plant that turns red very easily. Arrived in excellent condition, and is thriving.
Review
Really pretty plant that turns red very easily. Arrived in excellent condition, and is thriving.
Review
A lovely plant and is growing well in my tank. It came well protected through the post. Am very happy and shall be buying again very soon for my new tank. Would recommend. Many thanks.
We're environmentally friendly
1. Sustainable Packaging

2. Fast Delivery

3. Guarantee
Your plants will be wrapped with recyclable Honey Comb wrap - sounds cool because it is :). It interlocks which means we don't need to use tape either, reducing our impact on the environment.
Not only is delivery fast with DPD Express but it's also green as they offset all the carbon their vehicles produce. Guilt free delivery which we're very proud of...
We guarantee you'll be happy with your order. But if you're not, please contact us so we can resolve. We are 100% here to help and will always do our best to resolve any issues - that's a promise.
Contact Us