Taxiphyllum barbieri (Java moss)
Model:003 POR
Regular price

Sale price

£8.99
Quick Facts

Rating: Easy

Growth rate: Slow

Common name: Java Moss

Position in Aquarium: Attach to wood/rock

Grows up to (cm): 3 cm

Portion Size: 10x7cm
Our Delivery Promise to You

If you choose Express Delivery, we will replace any plants that are damaged due to delays. Express Delivery is a fast, trackable, and reliable option with a one hour delivery window. It also ensures that the plants will arrive in the same condition as when they left our facility. If you choose a different postage option, such as Tracked 24 or Tracked 48, you will not be covered for any damages due to delays and will assume the risk yourself if the plants do not arrive in good condition. Express Delivery includes an insurance policy, which may cost more but provides added peace of mind.



If you order before 4pm we dispatch the same working day (Mon-Fri). Shipping prices start at £4.99 depending on the speed of delivery required.

Taxiphyllum barbieri, commonly known as Java Moss, is a species of aquatic plant that belongs to the Hypnaceae family. It is native to Southeast Asia, where it grows in freshwater streams, rivers, and lakes. Taxiphyllum barbieri is a popular plant in the aquarium hobby due to its attractive appearance, ease of care, and versatility in aquascaping.
The plant has a unique and delicate appearance, with fine, hair-like fronds that form dense, lush mats. It can grow up to 5 cm tall and is a bright green color. It is a relatively slow-growing plant that is known to thrive in low to medium light conditions, making it ideal for beginner aquarists.
Taxiphyllum barbieri is a versatile plant that can be used in a variety of aquarium setups. It can be attached to rocks, driftwood, or any other decor using fishing line, glue, or thread. The plant can also be used as a foreground, midground or background plant, depending on how it is arranged.
This plant is also beneficial for aquarium inhabitants as it provides hiding places and breeding grounds for fish and invertebrates. It also helps to absorb harmful waste products, such as nitrates and phosphates, from the water, improving water quality and overall aquarium health.
Caring for Taxiphyllum barbieri is relatively easy. It requires a consistent water temperature of between 20 and 28°C, with a pH of between 5.0 and 8.0. Regular pruning is also recommended to prevent the plant from becoming too dense and to maintain its shape.
In summary, Taxiphyllum barbieri is an attractive, versatile, and easy-to-care-for plant that is a popular choice for aquascaping. It provides numerous benefits to aquarium inhabitants and helps to maintain a healthy aquatic environment.
Share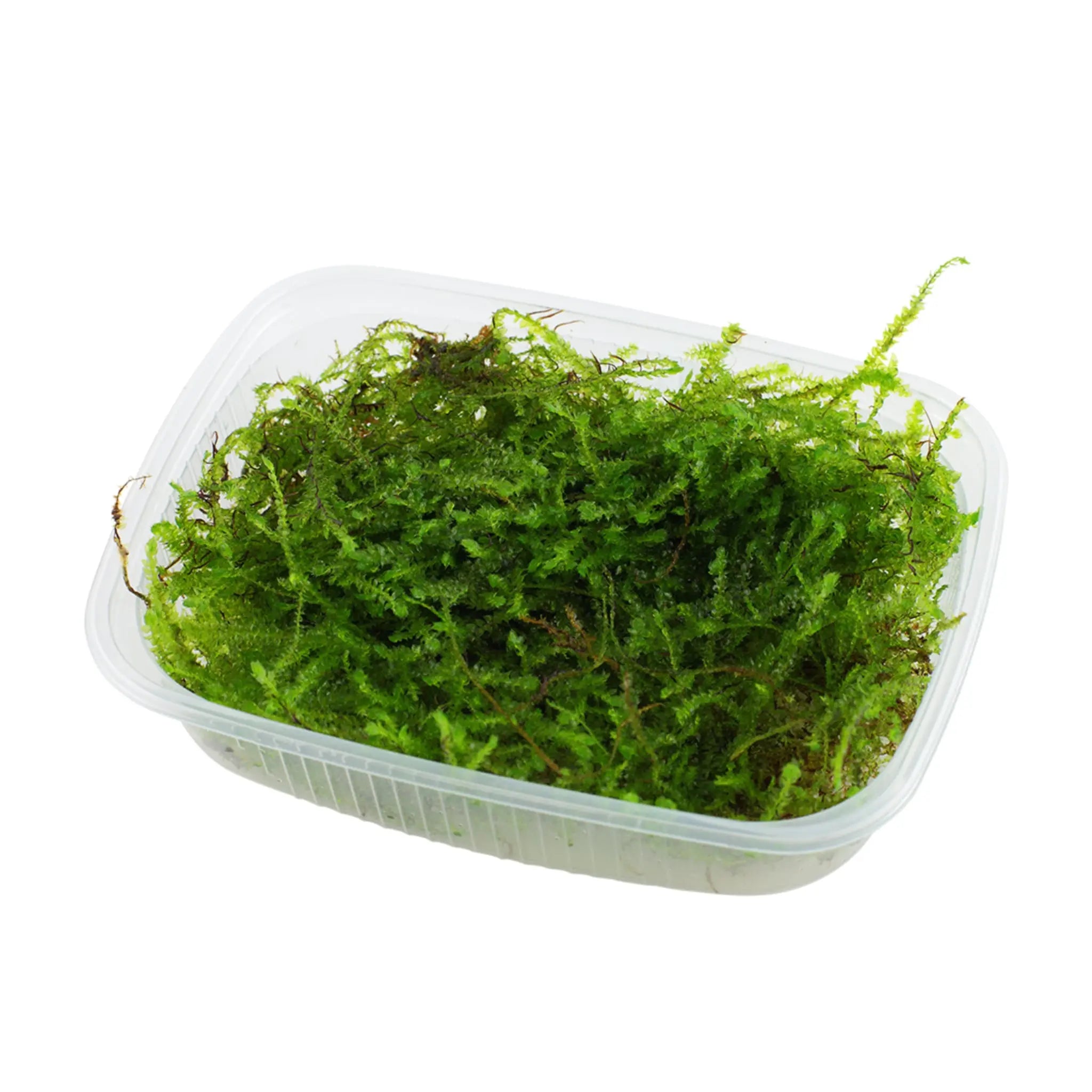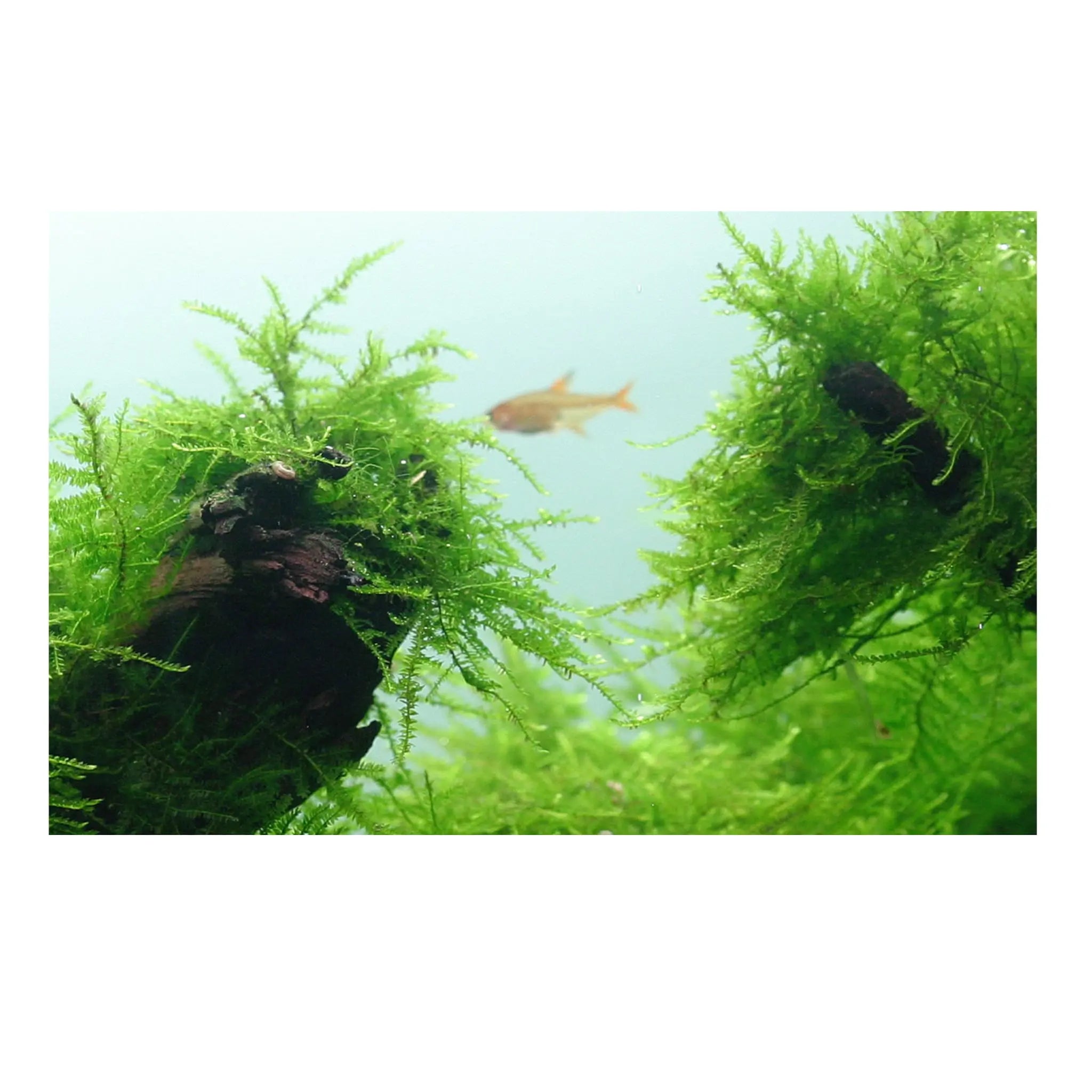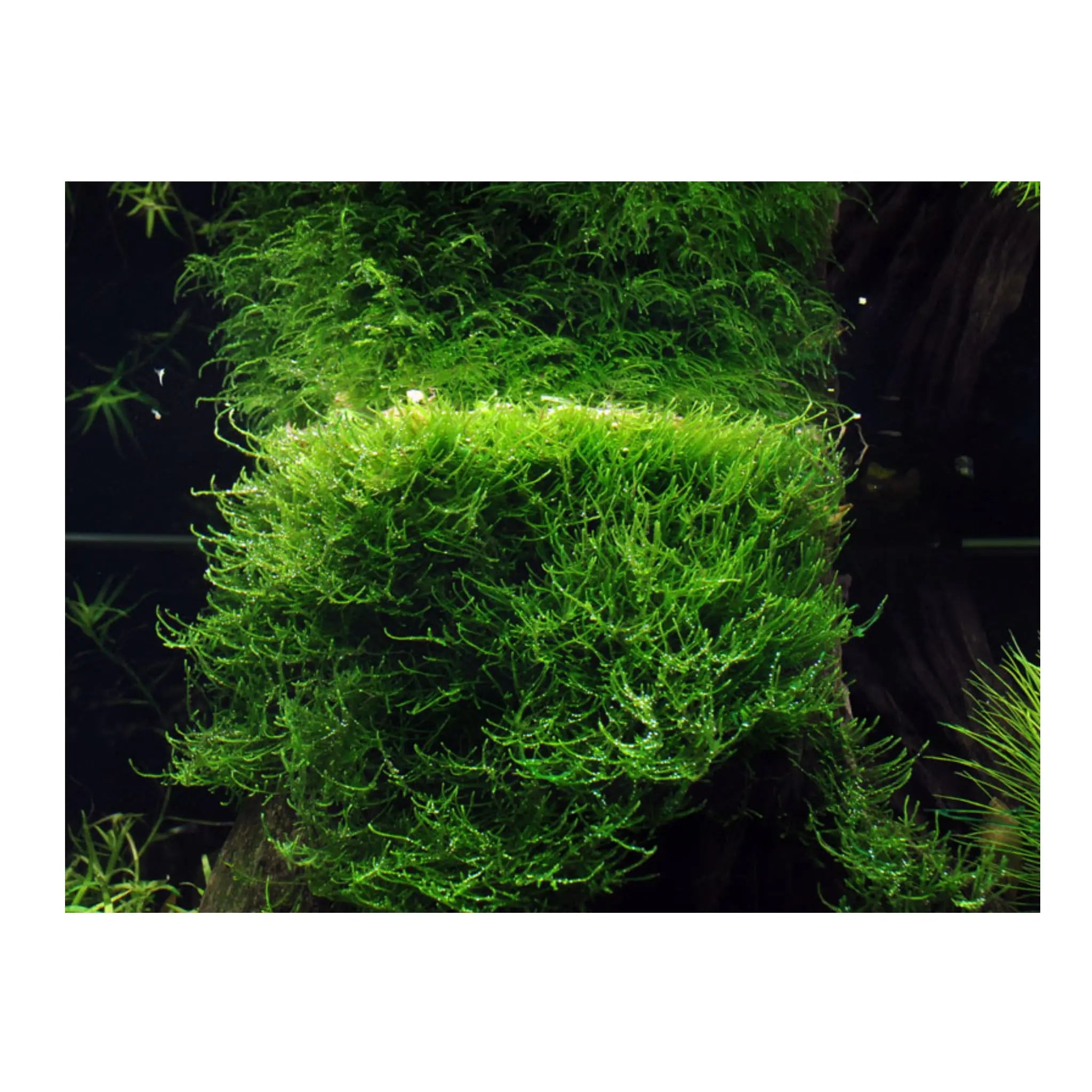 Information about growing mosses:
1. Slow growing

Mosses are well known for being relaltively easy to grow. Due to the fact they are slow growing, it means demands are low. This means less light, less fertilisers and less care.
2. Not too much light please

Because all mosses are slow growing, you can't force them to grow quicker. So brighter light and loads of CO2 won't turbo charge them - actually you'll just end up stressing them out. Whilst some will always grow faster than others, mosses take time to get to the stage you want them to be. Patience.
3. Trimming is beneficial

Like all plants, mosses need trimming with a shaprt pair of scissors so don't hold back. Avoid them getting leggy, trim them to keep their shape and they will reward you with better growth which is a deeper green and dense.
Reliable
Plant's always received in perfect conditions .
Great Quality
Arrived really fresh, vibrant green and still going strong after a week in my tank.
Good sized tub of moss, it was really lush and is doing well in our tank.
Review
Great product looks amazing
Review
Great product looks amazing
Review
Strong and healthy moss.Arrived well protected against damage and very quick.
Review
Strong and healthy moss.Arrived well protected against damage and very quick.
Guarantees
All In Stock

Everything you see on the site is in stock, ready to ship. No special orders, no waiting around.

Fast Dispatch

Fast shipping. If you order before 4pm Mon-Fri, we'll ship the same day. Whoooosh.

Easy Checkout

You'll find our checkout smooth and silky for a comfortable shopping experiece. Welcome to First Class :)
We're environmentally friendly
1. Sustainable Packaging

2. Fast Delivery

3. Guarantee
Your plants will be wrapped with recyclable Honey Comb wrap - sounds cool because it is :). It interlocks which means we don't need to use tape either, reducing our impact on the environment.
Not only is delivery fast with DPD Express but it's also green as they offset all the carbon their vehicles produce. Guilt free delivery which we're very proud of...
We guarantee you'll be happy with your order. But if you're not, please contact us so we can resolve. We are 100% here to help and will always do our best to resolve any issues - that's a promise.
Contact Us
See what others say about us
I can't find anything to say bad about AQUA ESSENTIALS,I found them by
mistake on eBay.The service and product's are first class.

Norman H
Bought several Tropica tissue culture 1•2 grow pots and all were in excellent condition. Couldn't be happier.

Shane
Fantastic
company. I received my order super fast, everything was packaged really
well, really happy with my experience and will shop here again.

Nikki
I was very pleased with the speed of the delivery .i ordered one evening
and the item arrived the next morning well packed . I think they deserve 6 stars out of 5.

Philip P
Lovely plants and incredible customer service!

Aimee