Echinodorus argentinensis XL
Model:8169
Regular price

Sale price

£19.99
Quick facts:

Rating:

Origin: Cultivated

Position in Aquarium: Background

Grows up to (cm): 80 cm

Pot Size: 9 cm

Growth rate: Medium pace

Common name:
Plant Sizes

The image of the plant you'll be receiving is just an example of what you can expect. Each plant is unique and may vary in size and shape, so it won't be an exact match to the photo. If we provide a size guide, keep in mind that it's just an estimate and that plants can vary in size depending on the time of year.
our delivery promise to you

If you choose Express Delivery, we will replace any plants that are damaged due to delays. Express Delivery is a fast, trackable, and reliable option with a one hour delivery window. It also ensures that the plants will arrive in the same condition as when they left our facility. If you choose a different postage option, such as Tracked 24 or Tracked 48, you will not be covered for any damages due to delays and will assume the risk yourself if the plants do not arrive in good condition. Express Delivery includes an insurance policy, which may cost more but provides added peace of mind.



If you order before 4pm we dispatch the same working day (Mon-Fri). Shipping prices start at £4.99 depending on the speed of delivery required.

Echinodorus argentinensis is one of the larger varieties and requires ample space in your aquarium. Prefers open top aquariums to look their best as the leaves can easily grow through the surface. The ornamental leaves are extremely sturdy and with little effort, they produce shoots and display beautiful white blossom flowers. For this reason, we recommend this plant for anyone who is new to the hobby or has a large aquarium.
Like all plants, they need daily fertilisers and liquid carbon (use Neutro T and Neutro CO2) and also pop 3 root tabs (use TerraTabs) underneath the root ball every 3 months.
Note: as with all XL plants they will vary to the picture which is purely an example. Some will be bigger some will be smaller but that's not something we have ANY control over as we are not the growers. What we can agree on is the bottom of the pot to the top of the leaf will be a minimum of 25cm when the plant has been in your tank for a couple of days (they need time to stretch out after shipping). If you are really after a specific size, message us prior to sending. Lastly, XL plants tend to only be readily available in the summer. In winter, plants grow much slower and as a result, XL plants are less available.
Share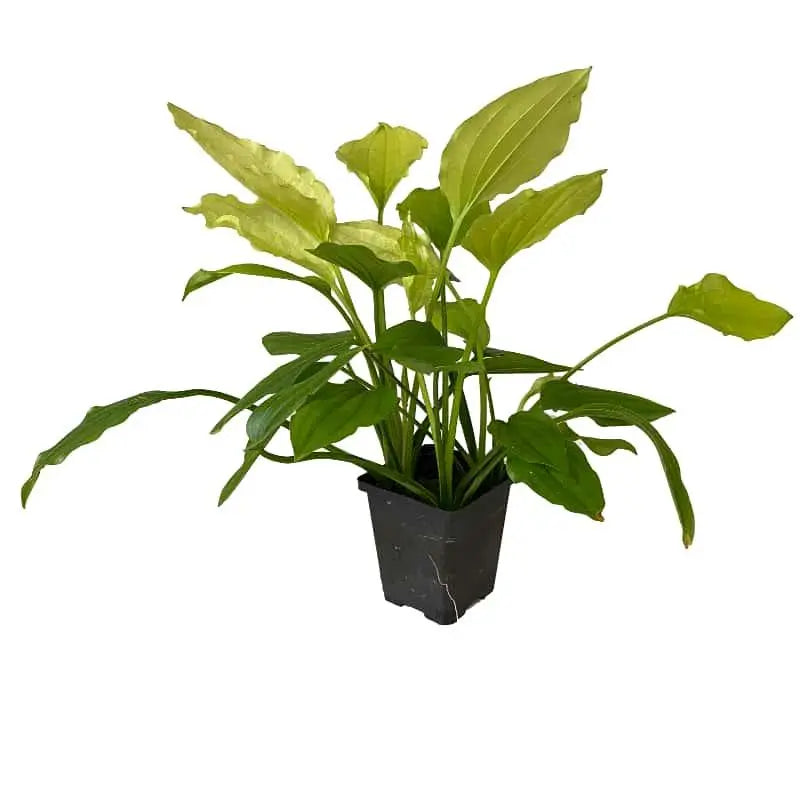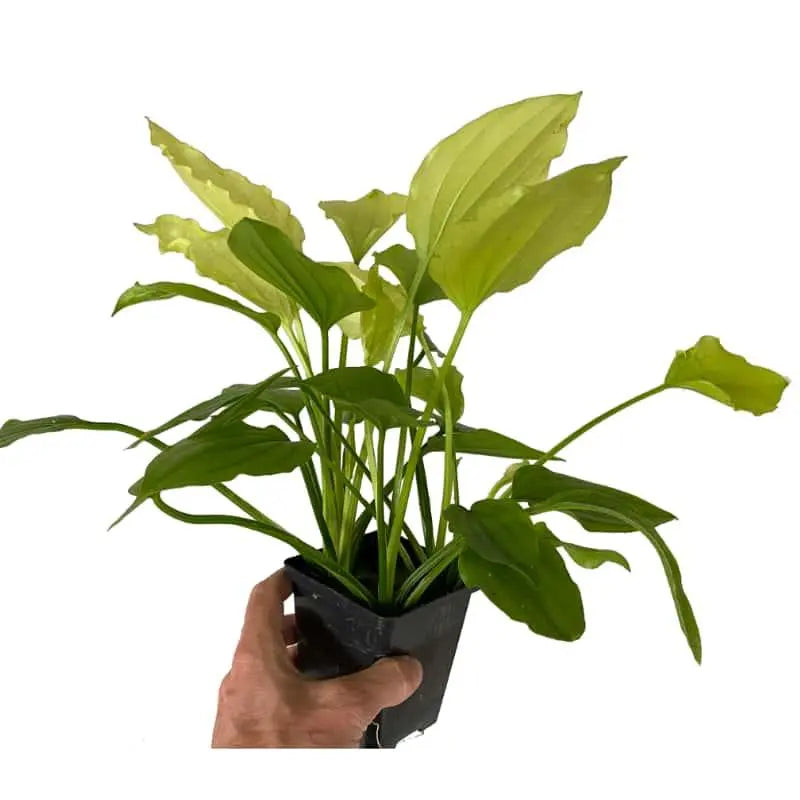 Product details
1. Go large

Xl Plants are the biggest plants available to hobbyists and sometimes extremely impressive, especially in the summer time. Pots are typically 9cm+ but the range is fairly limited so if you see one you like, best to go for it.

Why is the range limited in the winter?

Plants grow much slower due to the weather and the cost to heat gigantic greenhouses. As a result, in the cooler months plants are typically 30-40% smaller than they are in the warmer months.
2. Planting up

Due to their size, they're best positioned towards the back of your aquarium. Of course, some of them will be better tied onto wood or rock (like Anubias). It is possible to leave these plants in their pots if you prefer, but we always recommend that where possible, you take them out of their pots and rockwool, and plant them in a nutrient rich soil. Bear in mind the plants may have extensive root structure but this can be trimmed prior to planting.
3. Feeding

How much food do they need?

Due to their size, larger plants need much more food than the 5cm potted plants so this has to be considered when planting.

What fertilisers should I offer?

We always recommend using both a nutrient rich fertiliser and a liquid carbon for all plants. Use Neutro T as a liquid fertiliser and Neutro CO2 for your carbon. Both are available in big bottles and if you are injecting pressurised CO2, sway the Neutro T for Neutro+.

Are root tabs needed?

If you want to get the best from your plants, so they stay strong, grow faster and produce better colours then yes. Use TerraTabs for best results. Insert 3 under each XL plant every 4 months.
Guarantees
All In Stock

Everything you see on the site is in stock, ready to ship. No special orders, no waiting around.

Fast Dispatch

Fast shipping. If you order before 4pm Mon-Fri, we'll ship the same day. Whoooosh.

Easy Checkout

You'll find our checkout smooth and silky for a comfortable shopping experiece. Welcome to First Class :)
We're environmentally friendly
1. Sustainable Packaging

2. Fast Delivery

3. Guarantee
Your plants will be wrapped with recyclable Honey Comb wrap - sounds cool because it is :). It interlocks which means we don't need to use tape either, reducing our impact on the environment.
Not only is delivery fast with DPD Express but it's also green as they offset all the carbon their vehicles produce. Guilt free delivery which we're very proud of...
We guarantee you'll be happy with your order. But if you're not, please contact us so we can resolve. We are 100% here to help and will always do our best to resolve any issues - that's a promise.
Contact Us
See what others say about us
I can't find anything to say bad about AQUA ESSENTIALS,I found them by
mistake on eBay.The service and product's are first class.

Norman H
Bought several Tropica tissue culture 1•2 grow pots and all were in excellent condition. Couldn't be happier.

Shane
Fantastic
company. I received my order super fast, everything was packaged really
well, really happy with my experience and will shop here again.

Nikki
I was very pleased with the speed of the delivery .i ordered one evening
and the item arrived the next morning well packed . I think they deserve 6 stars out of 5.

Philip P
Lovely plants and incredible customer service!

Aimee